Today I going to discuss, a very interesting way to Make Your Career & Earn money online. In this video, You will learn a Complete Plan to Earn $1000 Per Month. #MyEarningProof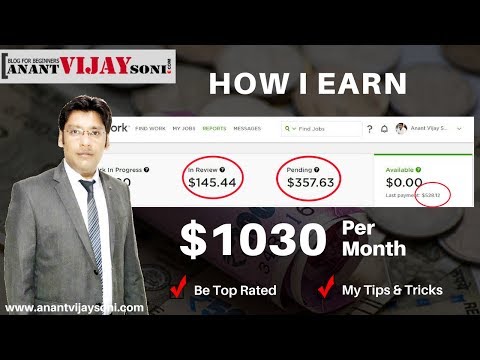 What is Upwork?
Upwork, formerly Elance-oDesk, is a world's largest online workplace, global professional freelancing platform where businesses and independent professionals connect and collaborate remotely.
Upwork has twelve million registered freelancers and five million registered clients. Three million jobs are posted annually, worth a total of $1 billion USD, making it one of the largest freelancer marketplaces along with Fiverr.
In 2015, Elance-oDesk was rebranded as Upwork. It is based in Mountain View and San Francisco, California. The full name is Upwork Global Inc.
Join Upwork: www.upwork.com
The solution to all issues related to WordPress: 
https://goo.gl/b2Z8qZ
Also, Check Out Complete WordPress Website Development Tutorial: 
https://goo.gl/7wlI55
---
Please Subscribe to Our YouTube Channel – https://www.youtube.com/anantvijaysoniavstech
Facebook: https://www.facebook.com/AnantVijaySoni.Blogger
Twitter: https://twitter.com/anantvijaysoni
LinkedIn: https://in.linkedin.com/in/anantvijaysoni
Instagram: https://instagram.com/anantvijaysoni
Website: http://www.avs-tech.in/
---
Please Like and share this video with your friends & Family. Subscribe our channel for Latest Updates.
---
JOIN OUR NEWSLETTER
---

No Spam. Ever!
You can unsubscribe any time — obviously.
---