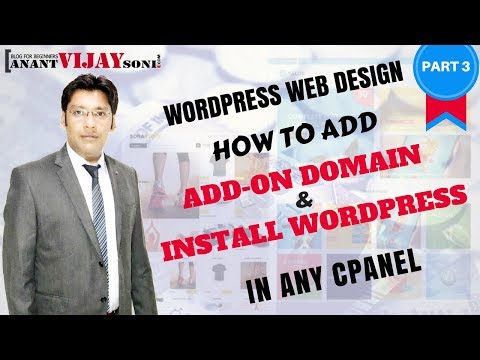 Today I going to discuss… How to Add Add-on domain and install WordPress in Cpanel.
This video explains how to set up an add-on domain to your hosting account and install WordPress as a content management software.
The basic steps are all the same as installing WordPress on your primary domain, but we will go over them again just to make sure nothing is missed.
First, log into your cPanel.
Once you have logged into your cPanel, click on WordPress under Top Applications.
This will bring you directly to the WordPress section in Softaculous. You will see a description of the program as well as some additional information, click on the Install Now button to proceed.
An installation form will appear. Fill out the details, then click Install at the bottom of the form.
---
The solution to all issues related to WordPress: https://goo.gl/b2Z8qZ
Also, Check Out Complete WordPress Website Development Tutorial: https://goo.gl/7wlI55
Please 
Subscribe to Our YouTube Channel
 – 
https://www.youtube.com/anantvijaysoniavstech
Facebook:
https://www.facebook.com/AnantVijaySoni.Blogger
Twitter:
https://twitter.com/anantvijaysoni
LinkedIn:
https://in.linkedin.com/in/anantvijaysoni
Instagram:
https://instagram.com/anantvijaysoni
Website:
http://www.avs-tech.in/
---
Please Like and share this video with your friends & Family. Subscribe our channel for Latest Updates.
---
JOIN OUR NEWSLETTER
---

No Spam. Ever!
You can unsubscribe any time — obviously.
---