Today I going to discuss… How to Import Bulk Products In WooCommerce – WordPress Web Design Hindi Tutorial.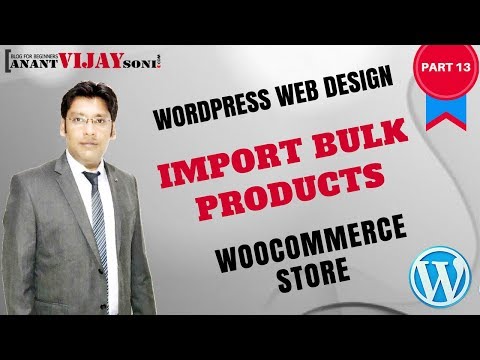 This is the best way to import bulk products, First of all, add 5 products of all product types (Simple product & variable product) and don't forget to fill all fields.
The solution to all issues related to WordPress: https://goo.gl/b2Z8qZ
Also, Check Out Complete WordPress Website Development Tutorial: https://goo.gl/7wlI55
---
Please Subscribe to Our YouTube Channel – https://www.youtube.com/anantvijaysoniavstech
Facebook: https://www.facebook.com/AnantVijaySoni.Blogger
Twitter: https://twitter.com/anantvijaysoni
LinkedIn: https://in.linkedin.com/in/anantvijaysoni
Instagram: https://instagram.com/anantvijaysoni
Website: http://www.avs-tech.in/
---
Please Like and share this video with your friends & Family. Subscribe our channel for Latest Updates.
---
JOIN OUR NEWSLETTER
---

No Spam. Ever!
You can unsubscribe any time — obviously.
---