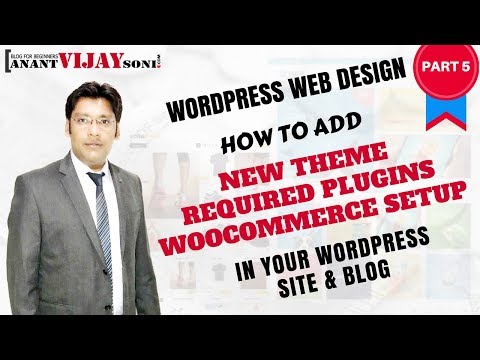 Today I going to discuss… How to Add New Theme & Required Plugin and WooCommerce Setup/setting
In this Video, we're going to walk through all settings available to you in WooCommerce. You'll find information about General WooCommerce settings as well as Product, Tax, Checkout, Shipping, Accounts, Email, and Webhooks.
FREE WORDPRESS THEME: https://wordpress.org/themes/
Premium Theme @ Envato: http://bit.ly/EnvatoWordPressThemes
Themeisle: http://bit.ly/ThemeisleWordpressThemes
Tesla Themes: http://bit.ly/TeslaWordpressThemes
Mojo Themes: http://bit.ly/MojoThemes
Member Press: http://bit.ly/MemberPressThemes
App Themes: http://bit.ly/AppThemesWordPress
WeDevs: http://bit.ly/Wedevs_Themes_Plugins
To get started, go to WooCommerce, and then click on Settings.
---
[PART 1] How to Choose Best Domain & Hosting Services for your business:
https://youtu.be/7V2v9kffZAM
[PART 2] Why to choose Perfect Themes for New WordPress Website & Blog:
https://youtu.be/ysE5x-VUFlI
[PART 3] How to Add Add-on domain & Install WordPress in Cpanel:
https://youtu.be/nbsCI7-Qw2k
[PART 4] Add & Change Domain Nameservers to your Hosting Account:
https://youtu.be/7lUVyyO4Xrk
The solution to all issues related to WordPress: 
https://goo.gl/b2Z8qZ
Also, Check Out Complete WordPress Website Development Tutorial: 
https://goo.gl/7wlI55
Please Subscribe to Our YouTube Channel – https://www.youtube.com/anantvijaysoniavstech
Facebook: https://www.facebook.com/AnantVijaySoni.Blogger
Twitter: https://twitter.com/anantvijaysoni
LinkedIn: https://in.linkedin.com/in/anantvijaysoni
Instagram: https://instagram.com/anantvijaysoni
Website: http://www.avs-tech.in/
---
Please Like and share this video with your friends & Family. Subscribe our channel for Latest Updates.
---
JOIN OUR NEWSLETTER
---

No Spam. Ever!
You can unsubscribe any time — obviously.
---