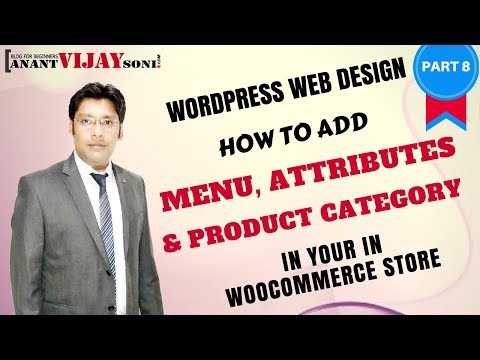 Today I going to discuss… How to Add Menu, Product Category and Attributes in Woocommerce Store/Shop.
Step to add Menu:
Go to Appearance – Customize – Menus.
Click the "Add a Menu" button & Write a menu name on the field, it can be anything you like.
Now Click the "Create Menu" button.
Click the "Add Items" button to add menu items to your menu.
[PART 1]
How to Choose Best Domain & Hosting Services for your business:
https://youtu.be/7V2v9kffZAM
[PART 2]
Why to choose Perfect Themes for New WordPress Website & Blog:
https://youtu.be/ysE5x-VUFlI
[PART 3]
How to Add Add-on domain & Install WordPress in Cpanel:
https://youtu.be/nbsCI7-Qw2k
[PART 4]
Add & Change Domain Nameservers to your Hosting Account:
https://youtu.be/7lUVyyO4Xrk
[PART 5]
Add New Theme & Required Plugin and WooCommerce Setup:
https://youtu.be/Olf_2QKsMMM
[PART 6]
How to Add Products In WooCommerce:
https://youtu.be/48njUp8yV_0
[PART 7]
How to add Affiliate/External Products in WooCommerce:
https://youtu.be/HJ_-X2OJXnI
The solution to all issues related to WordPress: https://goo.gl/b2Z8qZ
Also, Check Out Complete WordPress Website Development Tutorial: https://goo.gl/7wlI55
Please Subscribe to Our YouTube Channel – https://www.youtube.com/anantvijaysoniavstech
Facebook: https://www.facebook.com/AnantVijaySoni.Blogger
Twitter: https://twitter.com/anantvijaysoni
LinkedIn: https://in.linkedin.com/in/anantvijaysoni
Instagram: https://instagram.com/anantvijaysoni
Website: http://www.avs-tech.in/
---
Please Like and share this video with your friends & Family. Subscribe our channel for Latest Updates.
---
JOIN OUR NEWSLETTER
---

No Spam. Ever!
You can unsubscribe any time — obviously.
---