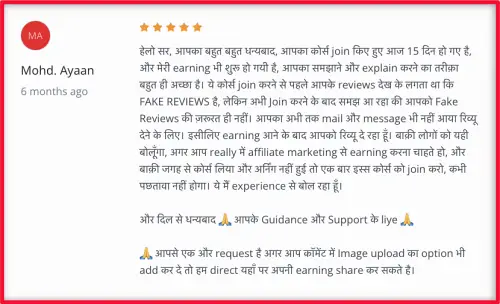 Frequently Asked Questions
❓  Is it a recorded course or a live course?
🙋  It's a recorded course (with Live Support) which will be given to you in a step by step video format.
❓  Can you tell me what is the duration of the course?
🙋  Total course duration is 16 hours+ and continues adding new updated tutorials.
❓  Is this course in Hindi or English language?
🙋  This course is in the Hindi language with English pronunciations.
❓  I don't have a laptop or pc so can I do this business with my phone only?
🙋  We recommend having a laptop or pc will make it easier for you, but you can also do it with your smartphone. You have to do a little bit of hard work and concentration with mobile.
❓  How long will You get support for your Questions?
🙋  Lifetime support to our students. You can use the Q&A section and ask as many questions as possible. Or you can also contact us via email and a dedicated Facebook & Telegram Groups for our students, where you can ask as many questions as you like.
❓  Can You download the videos?
🙋  After enrolling in the course, You have lifetime access to updated versions. That's why downloading video is not a good idea. You can watch it anytime and unlimited times. All you need is a laptop/mobile and an Internet connection.
❓  Got more questions?
🙋  Please write to us at [email protected] or call/whatsapp us on +91 94xxxxxxx9 (Hidden to stop spamming, but Available inside the course) and we will take care of your queries.