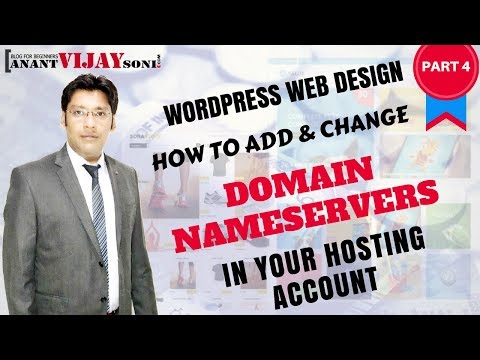 Today I going to discuss… How to Add & Change Domain Name Nameservers to your hosting account
If your domain name is registered with GoDaddy but hosted by another company (or on a server you control), you'll need to change its nameservers. What those are, we don't know! You'll have to talk to your hosting provider or admin to find out what your custom nameservers should be, and then you can easily setup nameservers of your domain name.
[Part 1] How to Choose Best Domain & Hosting Services for your business:
https://youtu.be/7V2v9kffZAM
[Part 2] Why to choose Perfect Themes for New WordPress Website & Blog:
https://youtu.be/ysE5x-VUFlI
[Part 3] How to Add Add-on domain & Install WordPress in Cpanel:
https://youtu.be/nbsCI7-Qw2k
---
The solution to all issues related to WordPress: https://goo.gl/b2Z8qZ
Also, Check Out Complete WordPress Website Development Tutorial: https://goo.gl/7wlI55
Please Subscribe to Our YouTube Channel – https://www.youtube.com/anantvijaysoniavstech
Facebook: https://www.facebook.com/AnantVijaySoni.Blogger
Twitter: https://twitter.com/anantvijaysoni
LinkedIn: https://in.linkedin.com/in/anantvijaysoni
Instagram: https://instagram.com/anantvijaysoni
Website: http://www.avs-tech.in/
---
Please Like and share this video with your friends & Family. Subscribe our channel for Latest Updates.
---
JOIN OUR NEWSLETTER
---

No Spam. Ever!
You can unsubscribe any time — obviously.
---