Are you looking for the best SEO Tool for a complete SEO audit of your blog? which provides you domain analytics, keyword research, track ranking of keywords, check and compare competitor's rank.
If yes, then today I am going to review one tool which I have personally been using for over 2 years and is trusted by many SEO agencies and professional bloggers. The tool I'm talking about is SEMrush.
If you are in Hurry, You can start with a trial of 7 Days, you have 7 days to research and make your decision.
I get asked these questions a lot:
What is SEMrush?
What is SEMrush used for?
What does SEMrush do?
Should I start using SEMrush?
How much does SEMrush cost?
How do I do keyword research?
Why

should you start using the SEMrush tool right now

?
I will answer these questions in my review, but before that, let me give you some details about my SEMrush experience.
What is SEMrush?
Let's explore why SEMrush is a favorite SEO tool for millions of users.
SEMrush is the most popular research tool for SEO, PPC, content, social media, and competitive research. SEMrush makes it really easy to find ranking keywords of your site (or any other site).
At the time of this writing, SEMrush has 140,000,000+ domains and 804,500,000+ keywords in its database.
SEMrush is the fastest way to grow your blog or website or your business. It shows you the competitor's keywords and suggests top-ranking keywords with a real-time content checker and writing assistant.
It is the most vital SEM (search engine marketing) tool that I believe every serious blogger and internet marketer should have in their SEO tool collection.
What is SEMrush used for?
SEMrush gives you the opportunity to get benefits from your competitors. Develop perfect strategies for advertising and content.
Find Analytics report of your competitors:
Organic Research
Advertising Research
Display Advertising Tool
Backlinks
Keyword Research
Product Listing Ads
Find Domain and Keywords Tools:
Keyword Difficulty
Domain vs. Domain
Charts
My Reports
Keyword Magic Tool
Position and Branding Projects:
Keyword Position Tracking
Site Audit
Social Media Tracker & Poster
Brand Monitoring
On-Page SEO Checker
Backlink Audit Tool
Organic Traffic Insights
Content Analyser
PPC Keyword Tool
What does SEMrush do?
SEMrush provides complete reports related to SEO, PPC & Paid Traffic, Social Media, and Content & PR. You can find all the reports inside the SEMrush panel.
SEMrush provides a complete workflow for any SEO professional:
Position tracking
Technical SEO Audit
Ideas for gaining more organic traffic
Semantic core collection
Backlinks audit and analytics
Competitive intelligence
"Not provided" problem solution
Improve the results of your PPC efforts:
Keyword grouping and management
Ads strategy analysis
Ad keywords and creatives research
Cross-group negatives optimization
Competition analysis
Help you in building the most effective social media strategy:
Discover best-performing posts
See how social audience and engagement change over time
Get instant insights into your social strategy
Compare how you perform against competitors
Get Results by content creation:
Discover trending topics
Collect brand mentions
Adjust content based on engagement data
Choose the most effective promotional channels
Seize new promotional opportunities
Backlink audit and analytics
Should I start using SEMrush?
Let me walk you through the complete process to use SEMrush.
Note: Most serious internet marketers are encouraged to try it with their competitor's sites. You can use it for any site.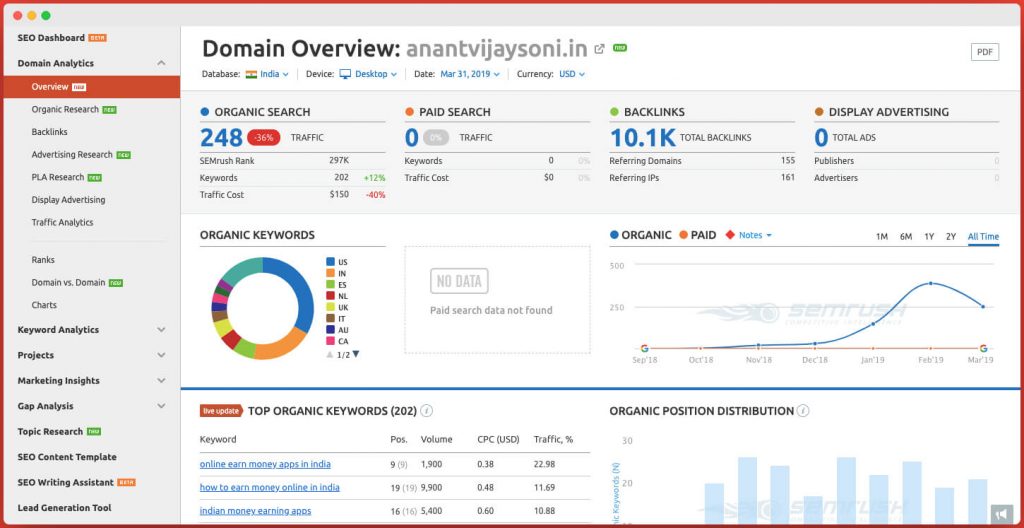 To start using SEMrush, all you need to do is add the domain name in the search box and click the "Search" button. Here are the results.

Let me explain a few of the sections on this domain overview page…
Organic Search: Find domain's organic traffic, keywords that a domain is ranking for in Google's top 100 organic search results, the domain's organic competitors, and keywords ranking distribution.
Paid Search: Find visual information of the domain's paid traffic, ad

copies, and

its cost,

 keywords that the domain appears

within

Google's paid search results, and the domain's paid competitors, keywords ranking distribution.

Backlinks: The number of the domain's backlinks, the ratio between Dofollow

and Nofollow links, referring websites, IPs and TLDs

Display Advertising: Domain's presence on Google's Display Network including the number of ads and publishers, media and text ads samples, and promote landing pages.
Top Organic Keywords: First show the graph of locations from where you get most organic traffic. And Top keywords that generate the most organic traffic to the website.
Organic Position Distribution: Grouped distribution of keywords position depends on the domain's keyword ranking on Google's top 100 organic search results.
Main Organic Competitors: Get competitive domains depending on competition

level, which is based on the number of the domains' common keywords and the number of keywords of each domain.

Competitive Positioning Map:

Shows the strengths and weaknesses of a competitive domains' presence in organic search results.
and Now, check the Organic Keyword Researching of a domain.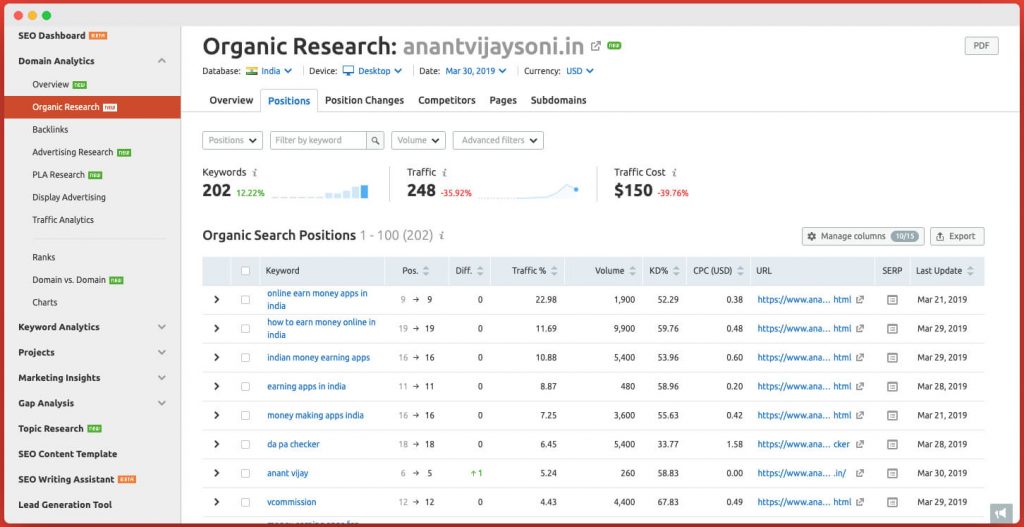 Let me explain a few of the fields on the Organic Search Position Page…
Keyword: The keyword brings from the Google top organic search results.
Pos: The keyword's position in the specified search engine depends on the Google location database, but you can change it to other locations and search engines too. It shows the previous and new keyword position over a specific period of time.
Diff.: Difference between the previous and new position of the keyword in google ranking.
Traffic: The percentage of traffic driven on your website with a specific keyword from the selected search engine.
Volume: The average number of times users have searched the same query and specific keyword per month on the search engine.
CPC: Average cost per click for the specific keyword.
URL: The page URL that is ranking in the Google organic search result for the specific keyword.
SERP: Snapshot of the search engine results page (SERP) for a given keyword.
Last Update: The time and date, when a specific keyword was last updated.
Let's Check the Backlinks for a specific domain.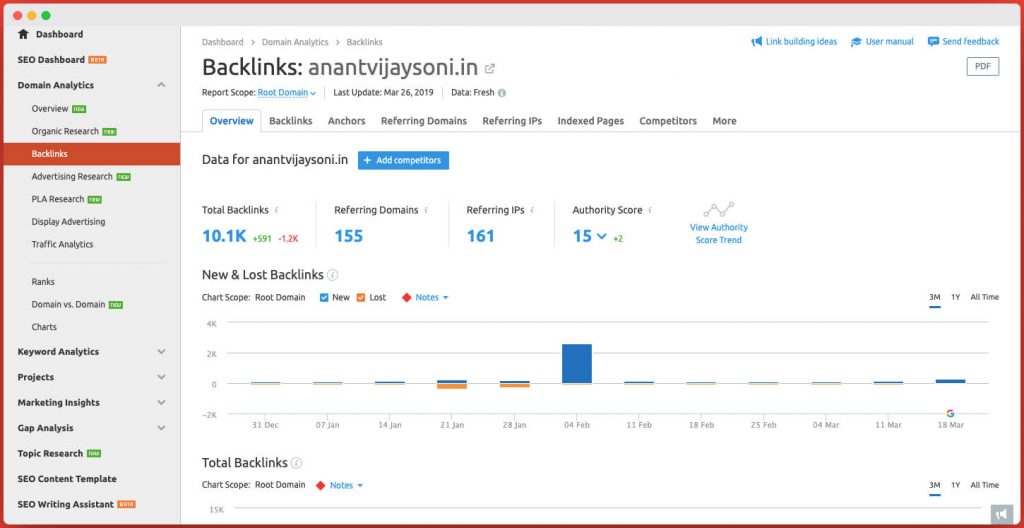 So after the full report and explanations, back to the original question, "Should I start using SEMrush?"
My answer is: If you want to Grow Faster than your competitors? then, YES!!! Obviously.
How much does SEMrush cost?
SEMrush provides competitive plans for every business type. you can choose between monthly billing and annually billing depends on your budget and requirement. We recommend first, start with a trial of 7 Days.
Starting price $99 Per Month on Monthly Billing and $83 Per Month on Annually Billing to get full access.
You can upgrade/downgrade your plan at any time, or cancel your subscription at any moment. In case you are not 100% satisfied with the service, there is a 7-day money-back guarantee.
Monthly Billing Plans of SEMrush.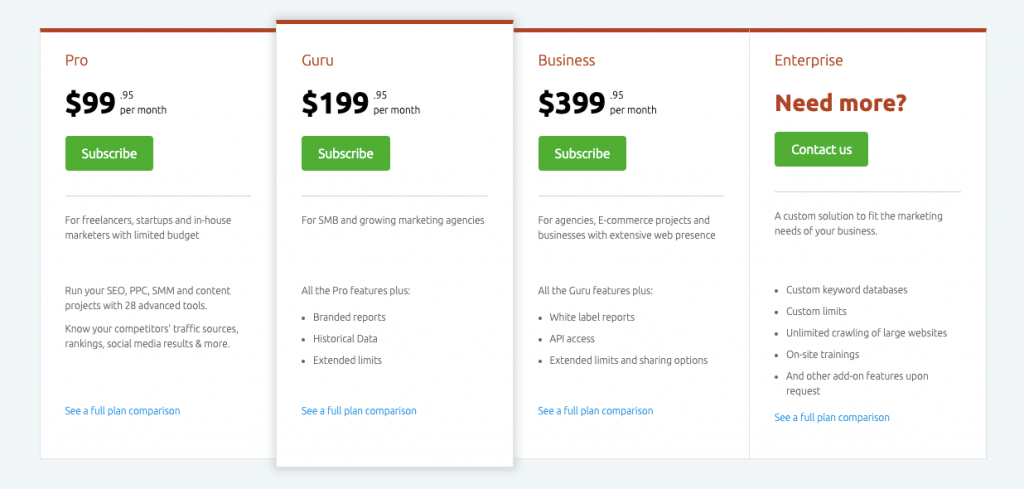 Annually Billing Plans of SEMrush.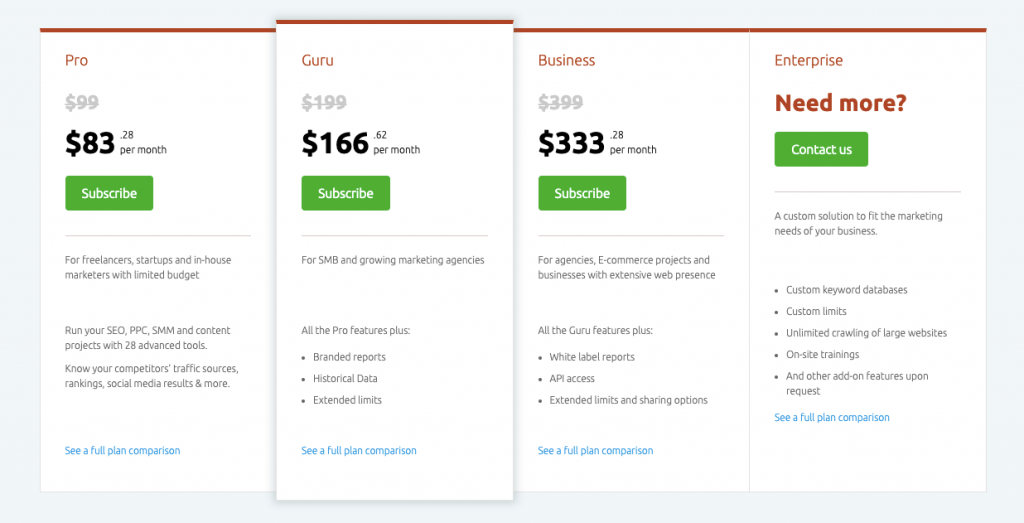 Why should you start using the SEMrush tool right now?
As a blogger, we write the numbers of posts to generate a good amount of traffic for your website or blog. But Do You Know? If you check your analytics, only a few posts generate high traffic, and the remaining are just a few clicks or waste. so what's the reason for this?
When you use SEMrush SEO Tool, you can easily find the keywords which are driving traffic to your competitor's posts. and you can write quality blog content with the researched keywords from the SEMrush tool. It will helpful for your post to rank in Google or search engines with specific targeted keywords.
Another reason, You can start with a trial of 7 Days and then price $99 Per Month on Monthly Billing and $83 Per Month on Annually Billing. You can cancel your subscription at any moment. If you are not 100% satisfied with the service, there is a 7-day money-back guarantee.
Sign up here: Free SEMrush trial account
I hope this SEMrush review has helped you to understand the benefit of this awesome search engine marketing tool. Always remember, SEMrush is useful for keyword research and analysis, but ultimately, it's your smart, quality, and hard work, which puts you at the top.
Let us know in the comments! Have you ever used SEMrush before? How's your experience been using it to supercharge your website's SEO?
Please share this review with them, you know someone who can benefit from this excellent tool? Thanks!
---
JOIN OUR NEWSLETTER
---

No Spam. Ever!
You can unsubscribe any time — obviously.
---